Port of Hvar is open to public traffic under the Port Authority of Split-Dalmatia County.
Nautical characteristics of the town of Hvar and its geomorphologic position in the centre of the Adriatic have always made this place an important spot in nautical traffic. Hvar is located at the crossroads of main seaways in the Adriatic, which is recorded by the archaeological findings in the sea bed of the island. Port of Hvar had a special significance in the Middle Ages, which is visible in the most preserved coast in Europe dating from 1554.

SMALLEST PORT IN THE WORLD
Proportionally to its touristic and nautical appeal, Hvar is is the smallest port in the world. The town of Hvar, being located on the world-famous Island of Hvar, has always been on the top of all world lists of excellence. It has been proclaimed a highly-ranking tourist and nautical destination over and over again.
Port of Hvar
a) land part:
It stretches along the coastline from the coastal point 1 through points 2, 3, 4, 5 to coastal point 6, then the coastal strip 72.00m long, 6.0m wide (from point 6 through points 7, 8, 9 to point 10). Then it follows the coastline from point 10 through points 11, 12, 13 to coastal point 14, then coastal strip of 300.00m in length and 3.00m in width from point 14 through point 15 to coastal point 16. Then it follows the coastline from point 16 through points 17, 18, 19, 20, 21 to coastal point 22. After that it goes 240m westward up to point 23 on the islet of Galešnik, then it follows its coastline northwards to point 24, and then it goes north 435.5m to coastal point 25. Total length of the mooring coast is 313.00m, i.e. 115.00m for larger vessels and 198.00 for smaller ones due to lower depth. Total area of the land part is 1290m.
b) sea part:
Imaginary line of the local waters is 240.00m west of the rim of the coastline (from coastal point 22 to point 23 on Galešnik), then it follows the coastal line of the islet direction north 278.00m up to point 24, and direction north 435.5m up to point 25, then direction east along the coast 137.0m (from point 25 to point 1). Area of the local waters is 281688m.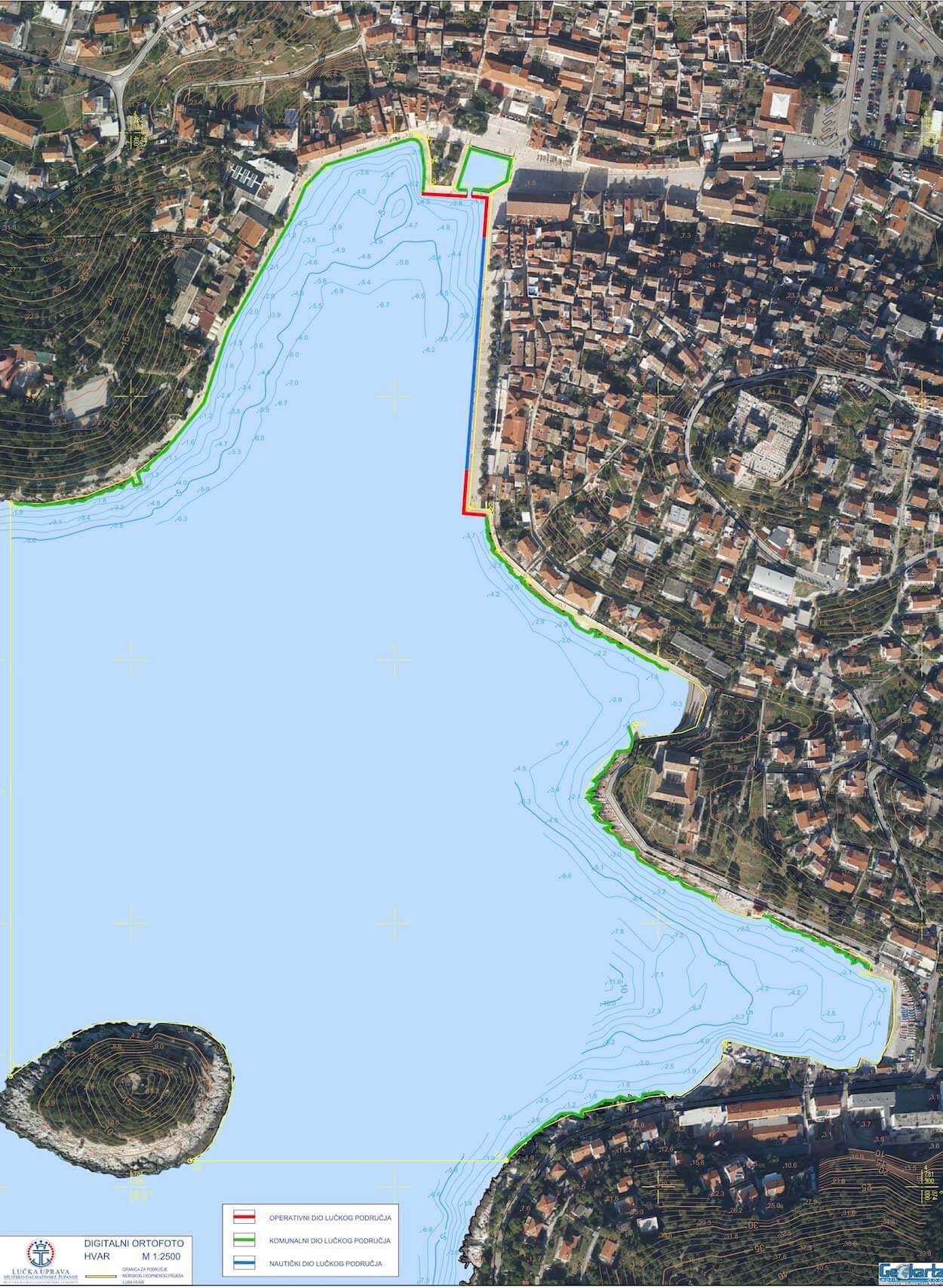 Everything for the captain
Hvar is tailored to its guests' needs, with an abundance of facilities: shops and restaurants, hotels, doctor's practices, a post office and ATMs. There is also a boat gas station in the town of Hvar. Hvar is connected by bus lines with all other towns and places on the island, and you can reach Split, Vela Luka and Korčula on the island of Korčula, Ubli on Lastovo, Vis and Milna on Brač, Pomena on Mljet and Dubrovnik by catamaran. Numerous taxi-boats travel to nearby Pakleni Islands and to other coves according to your wishes.
Port characteristics:
Latitude: 43° 10' N
Longitude: 16° 24' E
Port length: 235 m (u planu dodatnih 528,2 m)
Port area: 1 410 m2 (1 757 m2)
Area of local waters: 1 410 m2 (1 757 m2)
Weather conditions: The port is under the influence of south wind (jugo) and west winds which can cause rough and billowing sea. There is ground swell in the port. Only with north eastern wind or bora the sea is relatively calm. Even when there is no wind, many taxi-boats cause waves.
Sea currents: Tidal currents of up to 0.4 knots prevail. Southwind storm causes strong current of western direction of up to 2.0 knots, which makes the manoeuvre of coming alongside to the mooring difficult.
Cables and pipelines: There is an underwater pipeline lied between the cape Križni Rat and the islet Marinkovac (Pakleni Islands).
Regulations: It is forbidden to anchor between the islet of Galešnik and the cape Križni Rat.
BERTHING AT HVAR PORT
download